Volunteer Pharmacy is an independent community pharmacy located in Knoxville.  We can fill your regular prescriptions and your compounded prescriptions in our accredited lab. Our staff is committed to offering compassionate service and value to our customers. We are a certified woman-owned independent pharmacy and have been providing caring pharmacist services to the area since 2011.
Did you know that less than 1% of compounding pharmacies in the nation are accredited to compound? However, our pharmacy has earned two accreditations for compounding from both PCAB and UCAP. Our pharmacy meets and exceeds the nation's highest and strictest standards for excellence. We were also Cityview's Reader Choice Award winner for 2016, 2017, and 2018 for Best Compounding Pharmacy in Knoxville.
Volunteer Pharmacy is accredited by the Pharmacy Compounding Accreditation Board (PCAB) as a service of Accreditation Commission for Health Care (ACHC). This accreditation shows their commitment to providing the highest quality compounded medications. PCAB was established in 2007 by eight of the nation's leading pharmacy organizations and offers the most comprehensive compliance solution in the industry, with standards based on U.S. Pharmacopeial Convention (USP) guidelines. PCAB assesses pharmacies that compound medications whether in the retail, hospital, mail order, or closed door setting.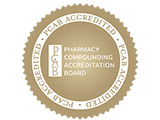 In an exclusive partnership with the NABP, FocusScript has created a comprehensive credentialing and accreditation program. Pharmacies that are FocusScript Certified and have completed the NABP site inspection program, have earned the right to display the compounding industry's ultimate assurance of quality, the FocusScript UCAP seal. FocusScript helps to provide solutions to the marketplace that make quality compounding affordable and accessible.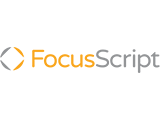 Volunteer Pharmacy is also a proud member of the Professional Compounding Centers of America (PCCA). PCCA offers a professional support team and tools to provide the highest quality of compounded medications and patient care. Our pharmacists can gain cutting edge education, training and innovative solutions to help our patients.